Quite a bit of fitness is less than graceful: the grunting, the sweating, the fatigue. But a highly physical and high-performance life can also be rife with beauty, and there's no better example than the sport of horseback riding. At Mill Creek Equestrian Center in Topanga, California, trainer McKenzie Rollins is an athlete working with athletes—those athletes just happen to be horses. She gave us a glimpse into the world of horseback riding, which marries elegance with sport in a truly unique fashion.


How and when did you get started?

I started riding when I was 5 and began taking formal lessons at 6. I am from a small town in Massachusetts and rode in the community program through the Stoneleigh Burnham School, a local small all-girl's school. It was the most magical place to me. I spent my summers and every school vacation working at the barn. I learned so much there from horse care and management, to organizing and executing a horse show, to simple basic horsemanship. Once I became a student at the school, I rode for Stoneleigh's Interscholastic Dressage Team and Hunt Seat Team and also continued to Event and show in the Jumpers. When I was in college at the University of Vermont, I rode on UVM's Intercollegiate Team which was based at Imajica Farm under the tutelage of Grand Prix Dressage trainer Madeline Austin, who first offered me the opportunity to teach and I completely fell in love with it. I began teaching the beginners on our team and it was at that point I felt I could really pursue a career in teaching.
This world is its own subculture. What does it mean to you to be a 'horse person'?

To be a horse person can be a loaded question! I mean, sure, you can discuss the fashion of it all, and the trends that circulate through each discipline. But for me it is about good classic riding and good horsemanship—it is just a way of life. I choose to live in pursuit of education with horses. Each horse is so different, and each horse has its own little puzzle that you have to figure out so that you can bring out the best in their performance. I find the whole process so rewarding.
How does your own physical fitness play into riding?

On any given day I ride between 4 and 8 horses which is physically taxing. But I am also teaching a number of lessons to my clients, which is tiring in a very different way. It is imperative that I stretch in the morning and also at the end of the day. I hike in my spare time which is beneficial to my fitness, strength and stamina. I do a small amount of weight lifting, but could be doing more. One of the most beneficial things I do for the comfort of my body is using a foam roller. I love/hate it. Riding for me is like breathing, so there are ways I use my body that I don't even notice anymore. It requires an incredible amount of balance, strength, flexibility and finesse. Also, nutrition has become a very important factor in my day-to-day. I pay attention to the foods that I eat, and try to stay as healthy and clean as possible because I physically and mentally require a lot of brain and body food. I drink a lot of superfood smoothies, and snack a lot throughout the day on fruit, nuts, pressed fruit bars, salads and protein drinks. I usually eat a big dinner when I get home to refuel! I also drink a lot of water. Because I am outside all day, I have to stay hydrated.
What are you thinking about when you're on the horse? How do you stay focused?

Personally, riding is very therapeutic. It keeps me grounded and honest with my emotions. I tell my students they are learning an invisible and unspoken language. Horses interpret everything at face value and constantly work off of first impressions. It requires a massive amount of concentration and is a delicate relationship of multitasking on numerous levels—mentally, physically, emotionally. Horses are incredibly sensitive creatures and every day can pose a different challenge. It requires us to be very present, very forgiving, and very understanding. When I am riding, I am constantly stimulated and I don't have the room in my brain to think about anything other than what is happening at that second.
Can you tell us a bit about how these horses really function as athletes, how you stay aware of and on top of that as a trainer?

It is incredibly important to know your horse's body in much the same way you know and understand your own. Each horse is unique as there are a variety of factors determining their care and management. Their legs are so important. Every morning I check the legs of my horses, to make sure their tendons are tight and that there isn't any swelling or heat. After a strenuous workout it is imperative to get rid of minor swelling and or heat in the soft tissue structures. This helps to prevent any future injury and discomfort. We may also apply standing wraps to their legs, like a compression sock. We will often add a liniment, something as simple as alcohol and witch hazel or arnica with both options reducing swelling, pain, and inflammation.
HORSES CAN GET SHOCK WAVE THERAPY, MASSAGE, And CHIROPRACTIC AND ACUPUNCTURE WORK TO HELP ALLEVIATE IMBALANCE AND SORENESS. IF YOU CAN GET IT AS A HUMAN ATHLETE, SO CAN HORSES.
Horses can get shock wave therapy, massage, and chiropractic and acupuncture work to help alleviate imbalance and soreness. If you can get it as a human athlete, so can horses. You have to remember they can't say where and how they hurt, so it is our job as the rider/trainer/owner to notice when something is different in their behavior, and then troubleshoot the possible issues based on our personal understanding of the horse, and our vet's technical approach. This is also why it is imperative that all of the equipment we use fits properly; saddles, bridles, bits, boots, etc., and that their feet are properly take care of. The same way you and I can have ill-fitting shoes, so can a horse. Remember that if your feet hurt, you overcompensate in other aspects of how you use your body as an athlete. It is important to pay attention to how your horse is feeling, what their mood is like, and where they may or may not be sore. Happy healthy horses will give you their best athletic selves.
"I WISH PEOPLE WERE MORE UNDERSTANDING OF HORSES' EMOTIONAL WELFARE. A LOT OF HORSES THAT ARE COMPETING AT THE TOP LEVELS LOVE THEIR JOBS."
What do you wish people knew about horses?
I wish people knew more of the emotional side of horses. They each have their own personalities and character traits. I wish people were more understanding of horses' emotional welfare. A lot of horses that are competing at the top levels love their jobs. In the same breath, I think it is our responsibility to know when a horse may need to be redirected to a discipline more suited to them, so that they feel useful and get joy from the work that they are doing.
What's your favorite part of the job?
My favorite part of job is all of the quiet moments: When my students make a connection to what I am describing, and are then able to execute that and have a successful outcome in a split second is amazing. When a horse feels successful and proud of its job, that's a beautiful moment. A student coming out of the ring with a smile on their face is the goal of every day. When a horse is happy to see you, and nickers, and finds comfort in your company and care, it is just magical.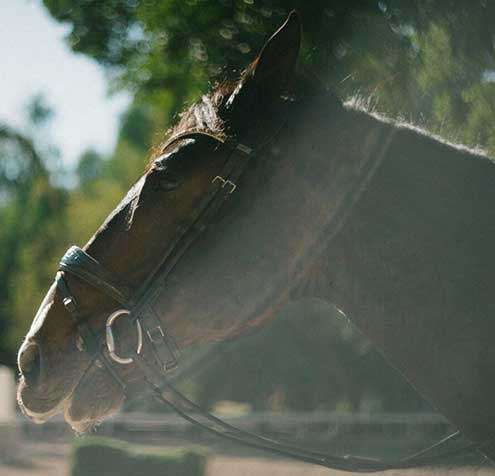 When a horse is happy to see you, and nickers, and finds comfort in your company and care, it is just magical.